I was travelling to Dubai for the first time last year. I was excited and I have been involved in the travel itinerary on things to do in Dubai. A heard a lot of reviews, about the desert safari, so I was looking forward to experiencing one of the timeless & memorable moments in my life. I was obviously banking on the past experiences and testimonials written by other customers. Since I never had a firsthand experience of doing the same. I must admit that initially I was a bit skeptical about it. Things running through my mind as to whether I would be able to enjoy this ride or it would be a waste of money. One day before this thrilling experience, I went to one of the tour operators to understand the process. The tour operator gave me a brief about the entire trip – riding through the furious sand dunes on a 4×4 terrain vehicle; click the most amazing scenario backgrounds; enjoying the impressive camel ride; beautiful henna designs; trying out Arabic attires; followed by an exquisite barbeque delicacy, and a belly dancing performance. The best part is that one doesn't need a group of people, but one can go even alone for this exciting adventurous trip. A professional desert safari driver would be driving the vehicle, and a local English speaking guide would accompany us to explore the humungous desert. The tour operator told us that they would be starting off at 1630 hours tomorrow and would take approximately 6 hours to complete the entire journey. They would be providing me convenience from my hotel and back.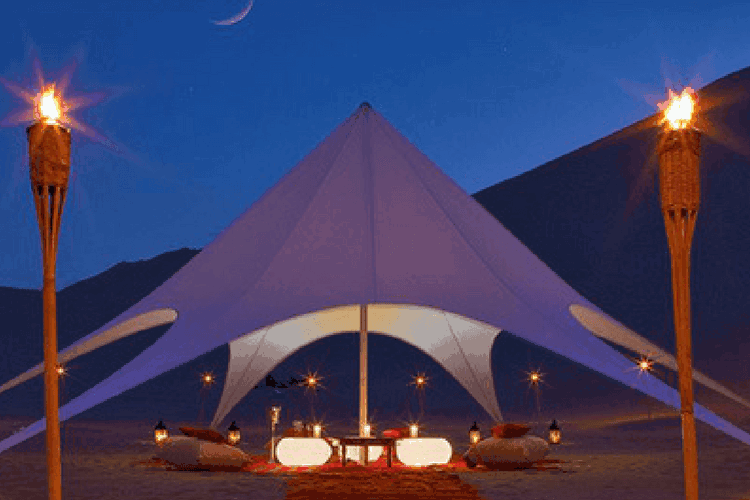 The next day, I was just waiting for every minute to pass by and finally when the time was on. An air-conditioned SUV came to pick me from my hotel. We were 5 of us in the vehicle. One needs to have professional desert safari drivers to experience the thrilling ride. As we were kicking off, my heart was pounding heavily. I was excited and nervous at the same moment; somehow I don't know how to describe the moment. We went up and down as if we were going on a boat during a high tidal wave. The vehicle left a glossy silken trail throughout its route. It was a beautiful sight to watch out. It was as if the vehicle was layering the sand. It became a bit scary when we were going down the trenches, it felt like free-fall. We were hitting each other left and right. It was creating tremors in everybody's mind. Never before had any of us come across such a dreadful ride. We all felt like the driver lost control, and started shouting our hearts out. But the guide told us to relax and enjoy the moment. For a moment, I felt that like falling into a deep pit. All I could see on all sides were sand dunes blowing hot and cold around the vehicle. Finally, we breathed a sigh of relief when we finally found our way on the top to the pinnacle of the dunes. It was as if I had overcome or achieved something major in my life. I felt like thanking God for keeping me alive through this. But the moment I felt relieved, again we went down the sand dunes. I held on to vehicle door handles tightly as if my life depended on it. Somehow I was unable to keep pace with the vehicle. All I could see was sand across the vehicle. It was somehow surprising that the driver could still manage to see through the sand and find its route. After all, he was a master at this, as this was his daily routine. I somehow tried to engage into a conversation with my vehicle mates to somehow avoid the fear of going through this tidal journey.
Finally, the driver stopped the vehicle. Time for clicks said the guide. When we came out, we all were greeted by a hot sand wave. We covered our face and eyes. It is impossible to guess whether we were on top or below sea level. All we could see where cones of layered sand dunes. It was dusk, the guide pointed towards the sunset. And all of a sudden, there were sounds of clicks! clicks! and clicks!… Everyone got engaged in their cameras and phones. I just wanted to enjoy the warmth of the desert. It was one of the most beautiful sights to watch. The sun left a reddish tone to the sand and left a mirage on the sand bed. It was one of the most beautiful sunsets I have ever seen in my life. In fact, it is the best sunset I have seen in my life. We then proceeded to our next destination back to our roller coaster ride. Up and down, down and up, up and down. I forgot the sequence as we went down…down…and up… & up. We kept taking short breaks for clicking photographs, and to cater to the nauseatic feeling several one of us had in turns. We managed to cling on to our ears and somehow tap our legs to the wonderful rhythmic Arabic music inside the vehicle. We finally reached a nearby Arabic resort. The music got louder as we all came out of our vehicles and each one of us shaken a leg or two to the amazing tunes. As we went further, we were given a grand welcome as we were greeted by a group of belly dancers who were showing us their amazing moves, along with a welcome drink. We had options for a camel ride, but all the ladies rushed to the henna camp and were admiring the beautiful art which was being laid in their hands. Sand boarding was also provided but at an additional cost. I somehow relaxed at the camp enjoying my drink and the magnificent belly dance. It reminded me the ancient Mujra, where dancers would dance and entertain the crowd with their delicate artistic moves. It was a sight to watch, as I kept relishing the delicious barbeque buffet along with the belly dance.
After stuffing myself with the scrumptious meal. I somehow managed to reach my vehicle. We all were literally drained out of energy. Our energy levels were negative and running on backup I guess. The tour operators dropped us back to the hotel. During our journey back, each one of us kept chanting out the wonderful experience they had during the entire trip. It was tiring, scary, adventurous, exciting, and timeless. Definitely one of the most cherished and unforgettable moments in my life.  I would definitely recommend anyone who is visiting Dubai. They should definitely keep it on top of their checklist on things to do in Dubai. It is a great value for money, and totally worth every penny you spent on this magnificent ride.