The world's most massive Ferris Wheel is on the verge of completion. The Ain Dubai, or Dubai Eye, is meant to be the ultimate slap of answer to the London Eye and Las Vegas' High Roller. An answer that will reverberate through time and space for quite some time, till some other nation dares to beat Dubai's record.  That won't be any time soon, we assure you.  Ain Dubai is finally being pieced together and is getting ready for its much-anticipated launch, set for late 2017.  Ain Dubai stands tall, proud and very visible on Bluewaters island, at 210 meters tall. It is the highest observation wheel in the world as of now, and hopefully, for a long time to come.
Why Bluewaters Island?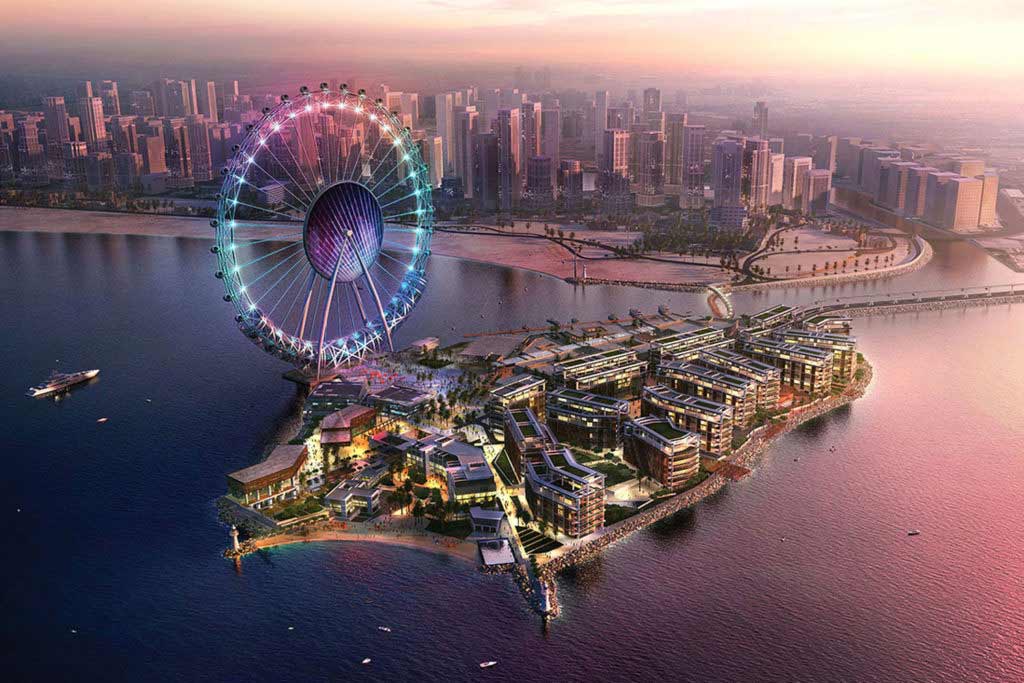 Bluewaters Island is located near the Palm Jumeirah. It has a clear view of the Palm and the World Map islands, and of Dubai's coastline. It is ideally located for Ain Dubai, given the uninterrupted views from all sides. Dubai plans to construct 10 residential buildings, including 698 apartments, 17 townhouses and four penthouses on this island. There'll be several shopping malls, clubs and bars and entertainment options as well plus two luxury hotels. So a visit to check out Ain Dubai will be a vacation of sorts on Bluewaters Island. The island is easily accessible via monorail or a bridge from The Beach in JBR.
Why Is Dubai Building Ain Dubai?
Ain Dubai reflects the ambition and vision of His Highness Sheikh Mohammed bin Rashid Al Maktoum, Vice President and Prime Minister of UAE and Ruler of Dubai. The Sheikh envisages a Dubai where people are allowed to explore and enjoy wonders such that they've never experienced before. He wants Dubai to be able to bring people together from around the world, which will showcase Dubai's business and leisure potential to a global audience. Ain Dubai also embodies Dubai's pioneering and innovative nature, which has thus far pushed the boundaries of modern engineering.
About Ain Dubai – Several Intriguing Facts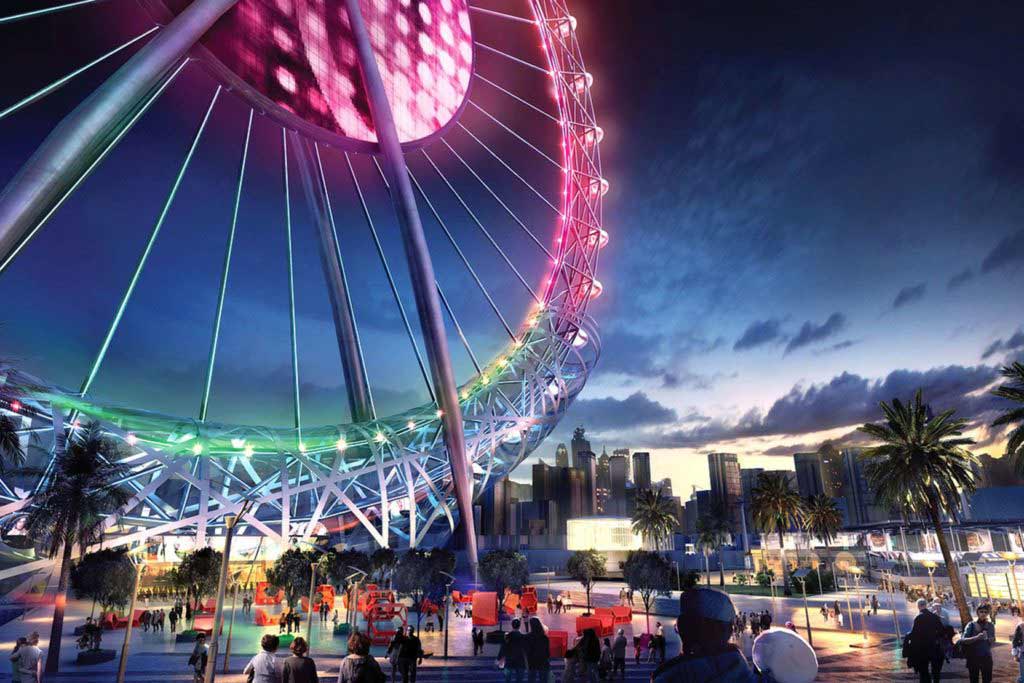 Ain Dubai stands at 210 plus meters, visible from the Dubai Marina and further off. It's definitely very visible from space. Ain Dubai, once complete and launched, will definitely eclipse the 190-metre New York Wheel that's to come up in New York's Staten Island and the 167-metre High Roller in Las Vegas. Ain Dubai is, to date, one of Dubai's most extravagant and most expensive undertakings. Are you the facts and figures kind? Then you'll love the intriguing statistics behind the construction of Ain Dubai. Read on!
The structure includes around 9,000 tons of steel, which is 25% more than the amount of steel that the Eiffel Tower took to make.
Each rim section weighs as much as two Airbus A380 aircrafts. Each rim was rested on five support structures connected to the hub, as well as two 115-metre spokes.
The highest-grade German and Korean steel have been used to manufacture Ain Dubai's eight rim sections. Each rim is so large that the rims were individually shipped to Ain Dubai by barge. The rims are being maneuvered into position by cranes that can lift 3,000 tons apiece.
192 heavy-duty cables connected the wheel rim sections to the hub and spindle. Each cable comprises over a hundred separate pre-tensioned wires that can take a force of 300 tons. These super-strong cables will eventually support the 7,500 tons of the rim and its capsules.
Ain Dubai's 48 high-tech passenger capsules are being manufactured in Switzerland by a firm called Swiss Rides, on behalf of Hyundai, who's the main project contractor.
Each double-glazed capsule is 30-square-metre large, and can accommodate 40 passengers comfortably. Each capsule is surrounded by high-quality glass that offers maximum visibility and protection from both ultraviolet and infrared rays. Ain Dubai's capsules use the same technology that's used to produce military aircraft canopies.
Each capsule will be designed with stone flooring and benches, and can be converted into fine dining rooms for 12 guests.
Licensed bars will be set up in six Premium Capsules as well.
Large LED screens in each capsule will provide information on the spectacular views on offer.
Smooth riding is ensured by motors located under each capsule, so that passengers don't feel the wheel's rotation.
Tourist Options
The London Eye has become a famous dining and entertaining destination. People rent a capsule to celebrate birthdays, to propose to their loves, and to celebrate things in a big way. We can see Ain Dubai headed the same way. Wouldn't it be amazing to rent a capsule and throw a dinner party for your business visitors or family? The amazing views and the height will add an unparalleled level of excitement to any occasion that you celebrate up there.
Conclusion
Dubai is yet to let us know the exact date of Ain Dubai's launch. The world is waiting with bated breath for the day when the very first group will make its way to heights never experienced on land before. It'll be simply amazing, and we cannot wait.