Explore the stunning camping spots in the UAE
UAE is known for its luxurious lifestyle, marvelous architecture, and a host of shopping arcades, it is never short of fantastic campsites. These camping destinations in the UAE offer an incredible environment much more captivating than a five star rated hotel. What all one would need is a sleeping bag, a tent, some snacks or light meals to pass the night. Sleeping under the star-studded sky is a beautiful feeling that can never be explained in words.
The overnight camping destinations in UAE offer an experience like never before. As the mercury drops post-sunset, you can expect to gear up for some marvelous adventure activities and explore the sites for pure moments of joy. We have listed some of the top best-camping sites in UAE that will leave you with a bag full of cherished memories.
Dubai Desert Safari Camping
What to expect:
An overnight Bedouin campsite experience in the heart of the vast Arabian Desert is once in a lifetime experience. Spot the exotic wildlife in the dunes, i.e., gazelles and oryx as you go up and down the great golden sandbars in a classical rough terrain vehicle. You would stopover at a royal retreat and enjoy a host of traditional Emirate activities like photography in Arabic attire, Falconry displays, camel rides, applying henna in hands and legs, and finally a delicious 4-course barbecue dinner. A night under the moonlit sky in a Bedouin-style tent will surely be an experience to remember. Wake up to the smell of the freshly brewed coffee and a delightful scrumptious breakfast before returning to your hotel or place of accommodation.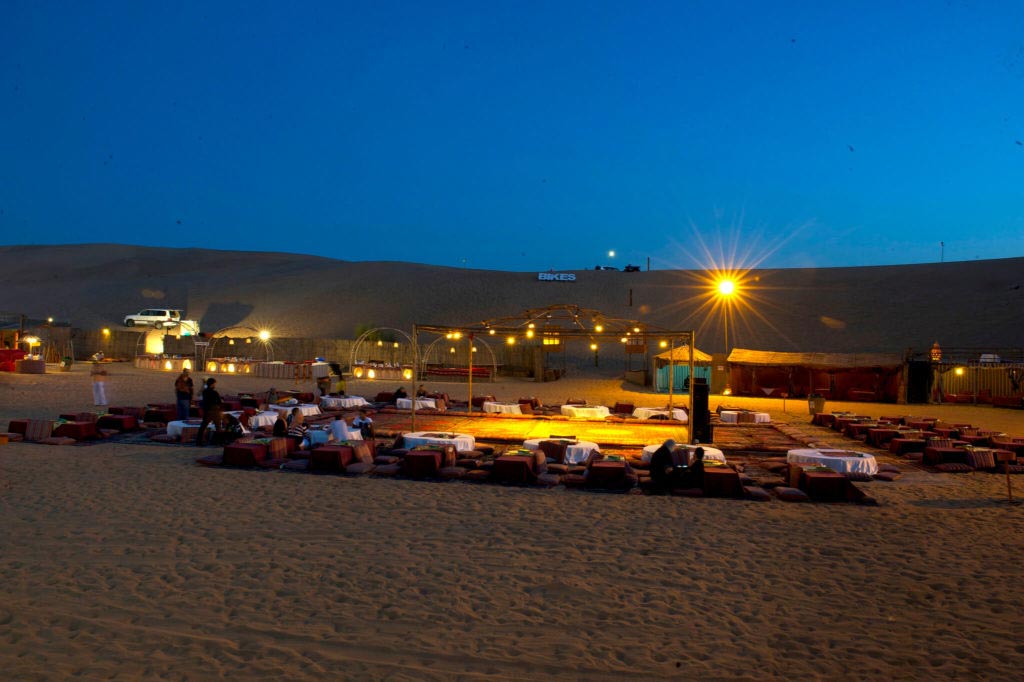 How to get there:
Several tour operators arrange to pick and drop from your hotel or place of accommodation to the desert site where your desert safari would start. Look for a package that suits your requirements.
Travel Tips:
Research well before shortlisting your tour operator. Select a package that is apt as per your requirements
Wear light clothing that you are comfortable wearing
Avoid shoes if possible as you may end up cleaning the sand that sneaks into your boots frequently
Lahbab Sands Camping
What to expect:
Lahbab is renowned for its fabulous red sands and offers great night-out options for first-time as well as for experienced campers. Easily rated among the best camping destinations in UAE. The Fossil Rock is one of the captivating spots for some star gazing. Savor the delightful barbecue dinner after attempting the 'Big Red' a 300-foot high dune activity, which is often an adventure enthusiast's delight. Head to the small Madam village before your cross the Hatta border; there are plenty of camping spots where you can also enjoy a camel ride in the local camel farms.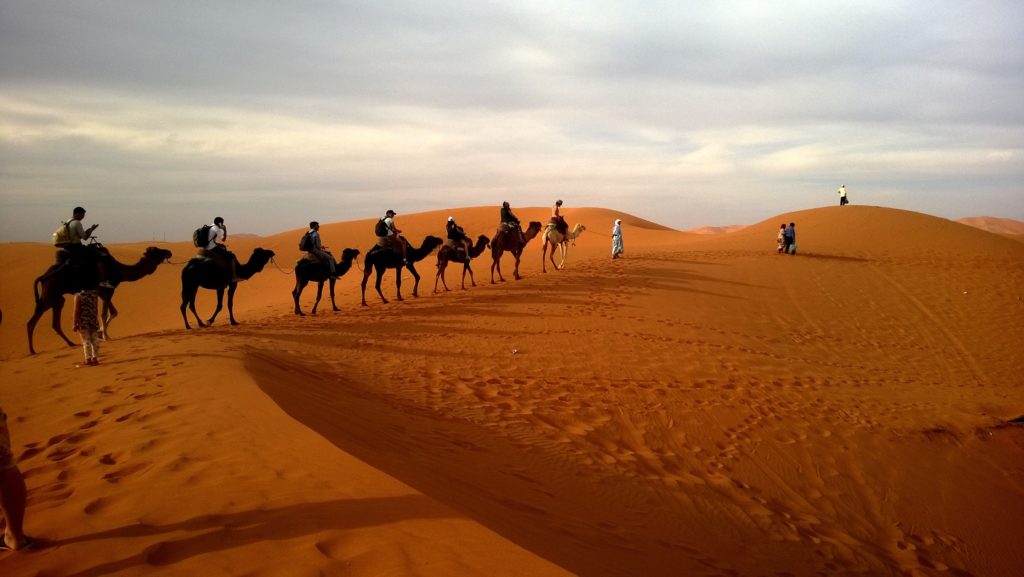 How to get there:
You will have to take the E44 or the Al Awir Road and then move towards the Dubai-Hatta Road or the Ras Al Khor Road. Finally, drive till you reach your destination in Lahbab. It would take you roughly 1 hour 40 mins drive from Abu Dhabi Corniche or 40 mins from Safa Park in Dubai.
Tips for camping:
Purchase an additional tent if you are camping with more than two people
Carry your trash along with you. Do not litter your surroundings
Al Hajar Mountains camping site
What to expect:
The Hajar Mountains are positioned in Oman, but certain portions do belong to the UAE territory. One of the ideal camping destinations in the UAE to spend a long weekend. For the adventure junkies, you can gear up for some rock climbing or trekking. Your drive starts from the tiny village named Al Hala at the foothills of the Hajar Mountains. You can explore the WadiTaybah that is not very far from this village. At Masafi, you would come across the refreshing spring waters. You can either dive or just stand in awe admiring the beauty. Head to the Friday market held every day en route to the Hajar mountains.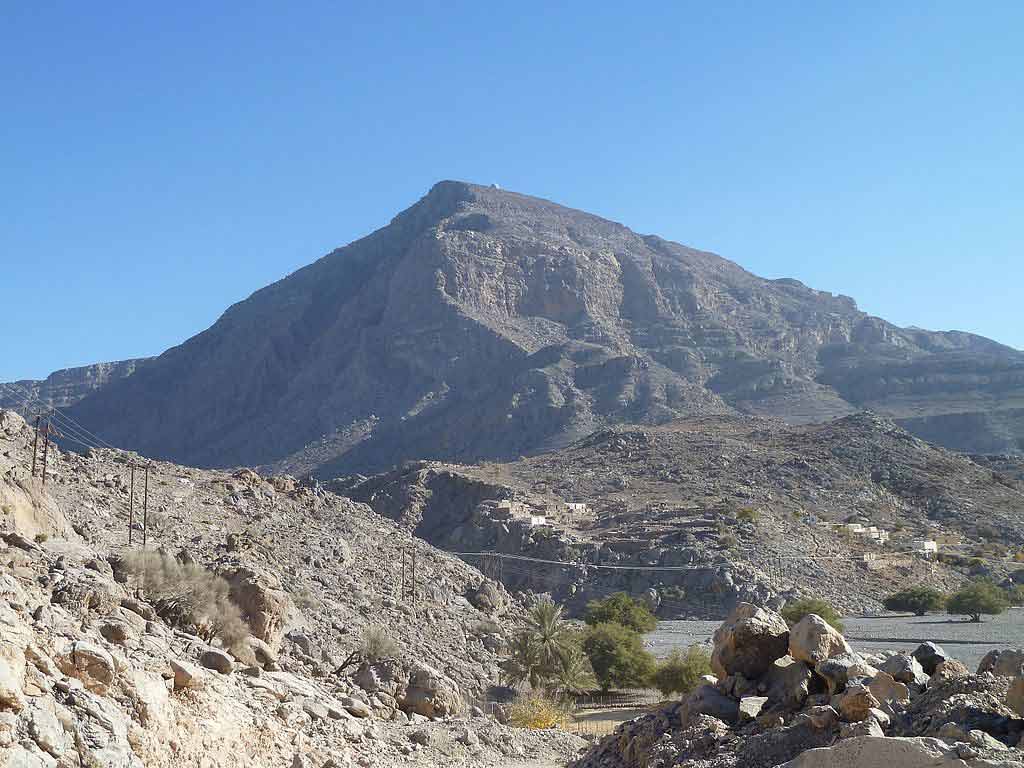 How to get there:
Move north towards the Al Dhaid Road or E88 from Mohammad Bin Zayed Road. Drive towards Masafi till you reach your destination. It takes about 3 hours and 30 mins from Abu Dhabi Corniche or 2 hours 30 mins from Safar Park in Dubai.
Tips for camping:
Set your tent at a higher altitude to avoid any mishap during the rains
Be prepared regarding physical gear and medical aid as the trip is ideal for experienced campaigners
When you head for long drives with your family and kids, keep sufficient entertainment options handy to engage your kids.
Al Qudra Lakes Camping Site
What to expect:
One of the best Dubai's camping spots with family and kids. It has lost some of its sheens due to irresponsible littering. Set your tent beside the lakes and wake up to the beautiful sounds of the birds chirping to be fed. If you are looking for some privacy, head to the desert. Being very close to the city, one can quickly catch on some last-minute supplies if required. For the adventure enthusiasts, head to the Al Qudra cycle track for some exercise.
How to get there:
Head towards the end of Al Qudra Road moving away from the Arabian Ranches and drive straight towards the tracks to the lake.
Tips for camping:
Camping responsibly in this beautiful nature reserve is something all travelers should follow
Carry your trash along with you when you leave
Umm Al Quwain Beach camping site
What to expect:
Either side of Al Rafaah is ideal for camping, but do look out for high and low tide areas before you pitch your tent. Rated by many as one of the best camping destinations in UAE. Do head to Dreamland Aqua Park and spend a day with your family for some fun and entertainment. You can indulge in some bird watching for flamingos and other wild birds at the old fishing villages at Al Raas. For the adventure goers, hop onto a kayak and explore the mangroves along the coast. You can also indulge in activities like fishing that makes it one of the refreshing changes from the busy city life. The night offers a beautiful ambiance for a setting up a barbecue.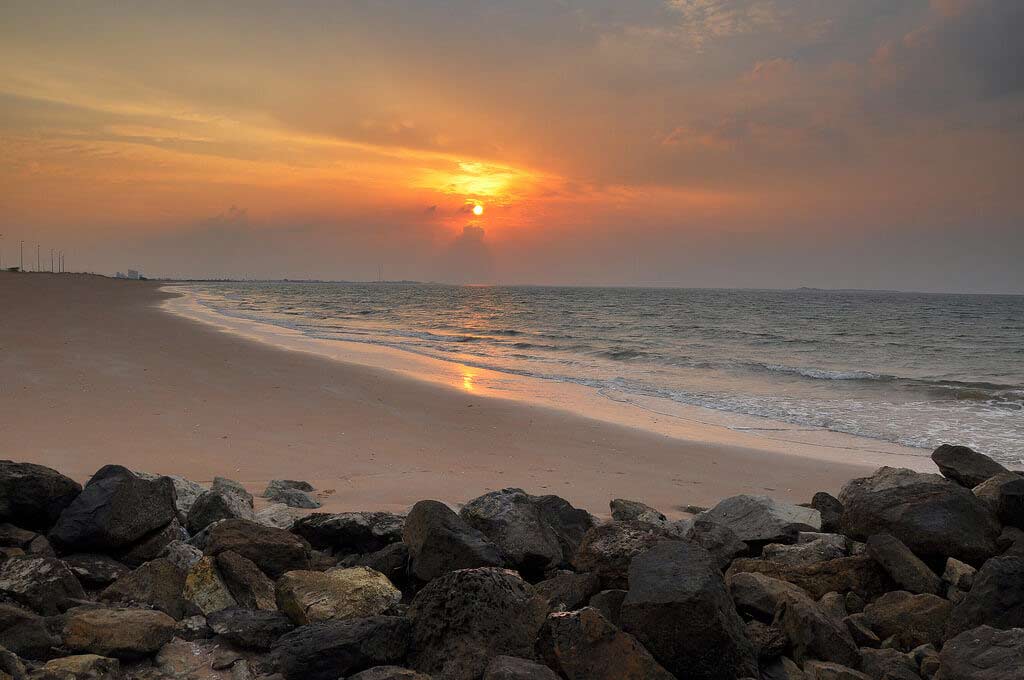 How to get there:
Drive north on Mohammad Bin Zayed road towards Ajman and take the exit towards Dreamland Waterpark exit. Alternatively, you can drive along E11 or E611 (Emirates Road) crossing Sharjah and cut across towards the sea on reaching Umm Al Quwain. It takes roughly 2 hours 10 mins from Abu Dhabi Corniche and 1 hour from Safar Park in Dubai.
Tips for camping:
Do take account of the high and low tides before shortlisting your camping side on the beach. Pitch your tent on the side of caution and away from water if you are unsure
Carry a folding beach chair for some campfire relaxation
Ras Al Khaimah camping site
What to expect:
Pitch your camp near the farms or the magnificent dunes of the Ras Al Khaimah desert. If you indulge in an overnight safari, you get an excellent chance to explore the splendid collection of flora and fauna in the region. The desert is dotted with several ghaf, palm, and banyan trees and one can easily spot native wild animals like the Arabian oryx. For bird watchers, it is a real delight as several wild migratory birds enter this region from the colder areas in the neighbourhood.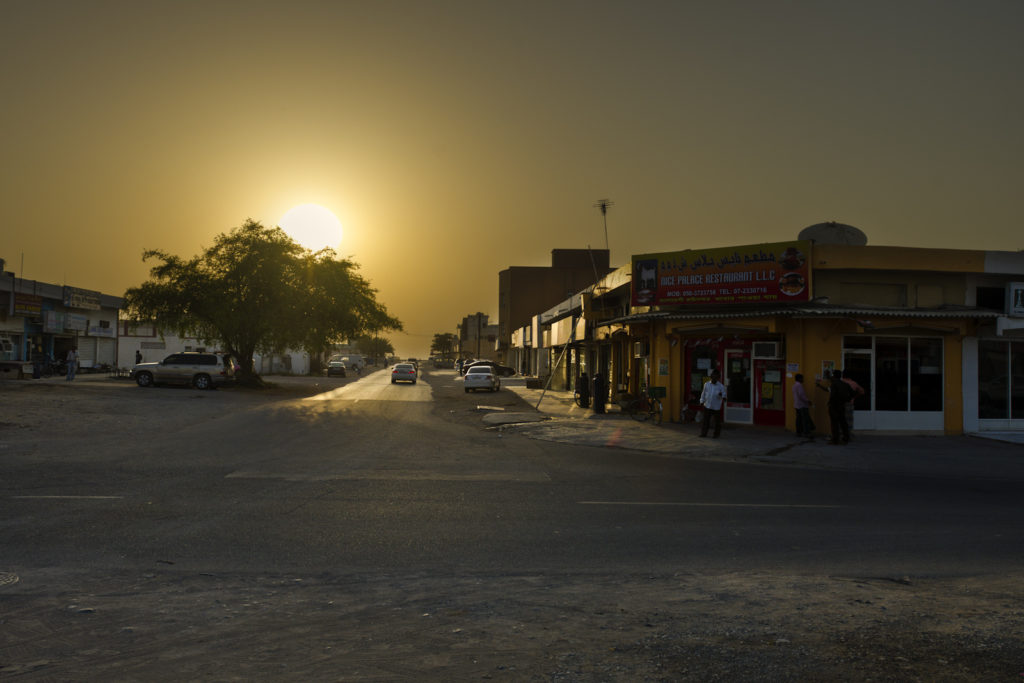 How to get there:
From Mohammad Bin Zayed Road, take the road towards Ras Al Khaima. It takes approximately 2 hours 40 mins from Abu Dhabi Corniche and 1 hour 10 mins from Safa Park.
Tips for camping:
The camping site is the middle of nowhere, so do carry your food and emergency supplies with you.
Carry some warm clothes with you as the mercury drops down in the night.
Liwa overnight Desert Safari
What to expect:
One of the experiences that you would carry with you for a long time. The Liwa desert is one of the beautiful deserts in the world and oozes with wildlife. Nicknamed the Empty Quarter as you would soon be in the middle of nowhere. Drive into the desert with a 4×4 rough terrain vehicle, and check out the silken trail left by the cars as they up and down the dunes. The mesmerizing sunset or the sunrise is one of the incentives you would receive for camping in the desert.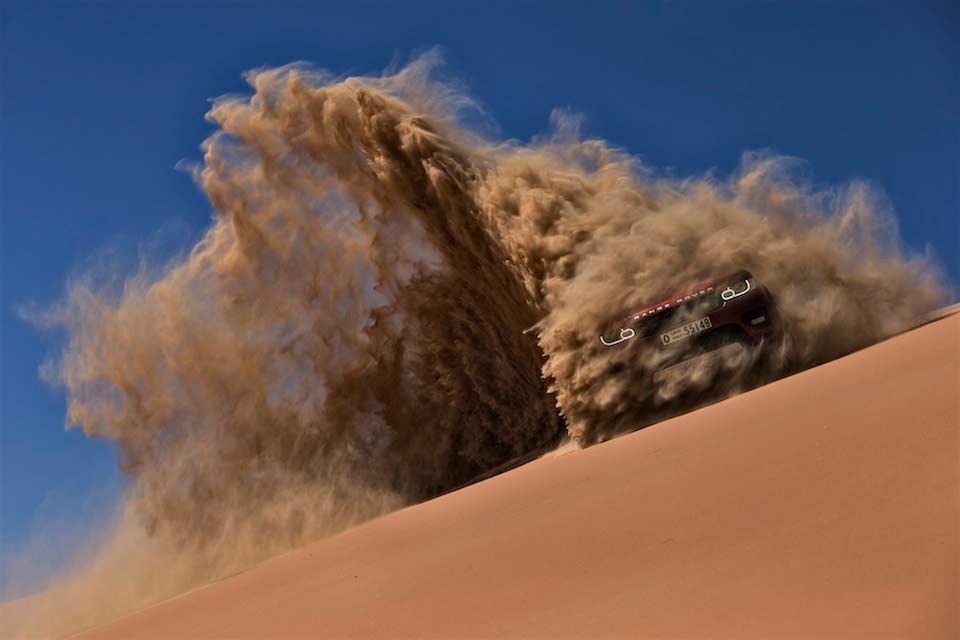 How to get there:
Taken E11 towards Abu Dhabi from Dubai and then cut to E45 towards MadinatZayed al AlGharbia towards the borders of Saudi Arabia. Follow the map till you reach E90 at Mezairaa and then off-road into the desert.
Tips for camping:
A compass, a map, full tank of fuel, loads of water, and shovel is a must before you set your exploration skills to test.
Al Dhafra Beach camping
What to expect:
On the outskirts of Abu Dhabi is the Al Dhafra Beach that offers one of the ideal camping sites for all water babies. Travelers can camp near the sea, and you could be the lucky ones to spot sea turtles and other exotic marine life creatures. For the water sports lovers, head to kayaking or snorkelling.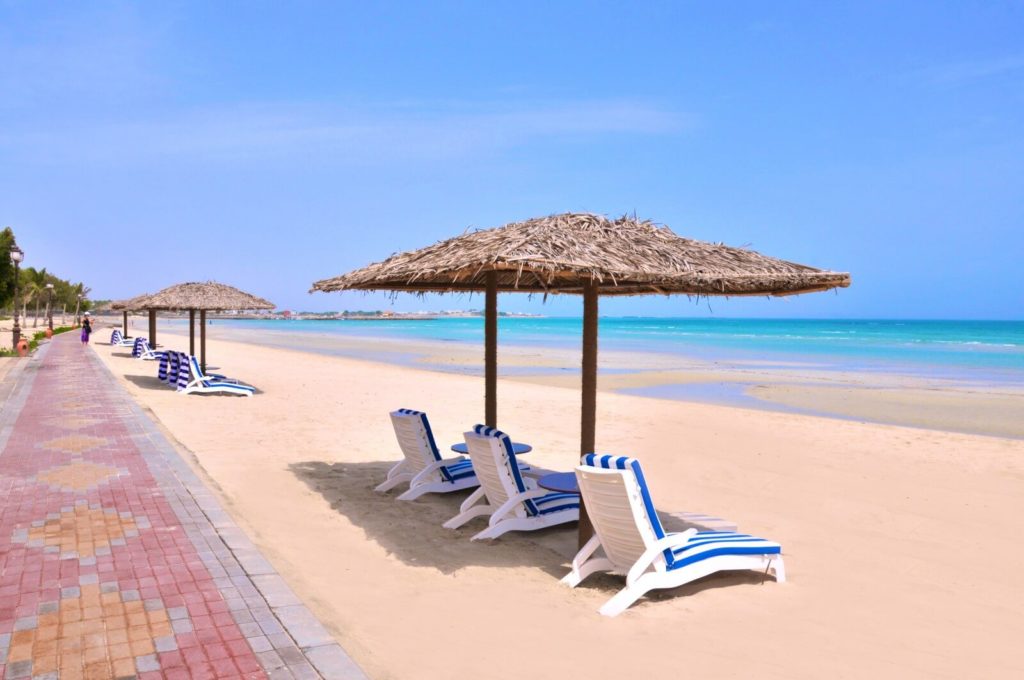 How to get there:
Follow the travel signs to reach Dhanna Resort/Danat Jebel/Al Dhafra Golf Links as you travel west on E11. You can access the beach through the golf club.
Tips for camping:
Pack a bathing suit or your watersports gear with you
Carry a folding beach chair along; you can enjoy the warmth of the sun as you relax at the sound of the nearing waves
Carry your trash along with you and keep your surroundings clean
Camping in UAE is one of the best pastimes for the locals and tourists as it offers a different experience from the routine city life. There are plenty of camping destinations in UAE, and each provides a different experience in its right, be it a beach or pristine wadis or a rugged mountain or a desert. The natural gems in the UAE leave everyone an opportunity to set their tent in the area of interest.